The GA4062 model spectrum analyzer has a frequency of 9 kHz up to 1.5 GHz. It is utilized with advanced measurement features for excellent spectrum analysis. With a high frequency stability and an outstanding performance, this digital spectrum analyzer is in no way inferior to similar analyzers of competitors.
This RF Spectrum Analyzer can be used for various applications, such as locating sources of ElectroMagnetic Interference (EMI) and measuring unwanted Radio Frequency (RF) radiation. The optional tracking generator extends the applications for which the spectrum analyzer can be used even further, making them very versatile and flexible.
This analyzer has a compact size and is light weight (< 7 kg), making it a portable design.
Features:
Frequency Range: 9 kHz to 1.5 GHz
Minimum Resolution Bandwidth (RBW): 1 Hz
Standard Preamplifier
Displayed Average Noise Level (DANL): < -148 dBm
Phase Noise: < -100 dBc/Hz (Offset 10 kHz)
Robust Measurement Features
High Frequency Stability
8.5-inch Widescreen Display (800x480)
Simple User Interface
Compact size & Light weight (< 7 kg)
Portable Design
Two Year Warranty
Spectrum Analyzer Tracking Generator (Optional)
A tracking generator operates by providing a sinusoidal output to the spectrum analyzer input. The output of the tracking generator is on the same frequency as the spectrum analyzer as the two units track the same frequency by linking the sweep of the tracking generator to the spectrum analyzer.
If the tracking generator's output would be directly connected to the input of the digital spectrum analyzer, a single flat line would be the result. The line's level reflects the level of the tracking generator's output.
When Equipment under Test (EuT) is placed between the tracking generator output and the input of the portable spectrum analyzer, then the response of the EuT will adjust the signal level of the tracking generator seen by the spectrum analyzer, and the level indicated on the analyzer's display. In this manner the response of the EuT will be seen on the digital spectrum analyzer display.
Tracking Generator Specification
Frequency Range
5 MHz - 1.5 GHz
Output Level
0 dBm to -25 dBm, 1 dB steps
Output Flatness
± 3 dB
VSWR
< 2.0: 1, Nominal
Connector
N-Type female
Impedance
50 Ω
AM/FM Demodulation Specifications (Optional)
AM Demodulation
Modulation Frequency
20 Hz - 100 kHz
Frequency Accuracy
1 Hz(Modulation Frequency < 1 kHz)
0.1%(Modulation Frequency ≥ 1 kHz)
Modulation Depth
5 - 95%
Depth Measurement Precision
±4%
FM Demodulation
Modulation Frequency
20 Hz - 200 kHz
Frequency Accuracy
1 Hz (Modulation Frequency < 1 kHz)
0.1% (Modulation Frequency ≥ 1 kHz)
Frequency Offset
20 Hz - 400 kHz
Frequency Offset Precision
±4%
SINAD
Measurement Range
0 - 60 dBc
Measurement Precision
±1 dB
Related Documents GA40XX Series
| | |
| --- | --- |
| Specs & Manuals | PDF |
| Technical Specification | |
| User Manual | |
| Programming Manual | |
Advanced Measurement Functions
Phase Noise Measurements Display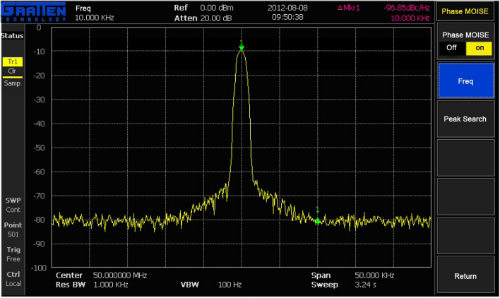 Three Simultaneous Trace Display at RBW 1M/100K/10K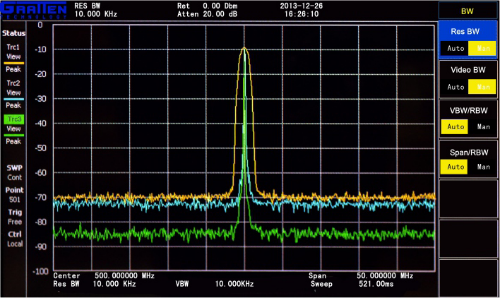 Waterfall Plot Display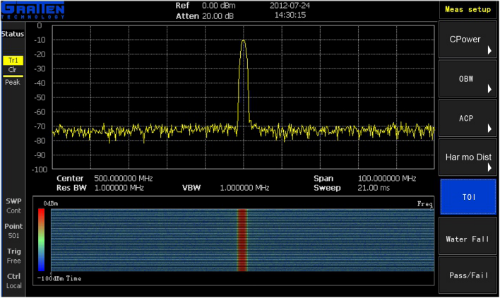 Adjacent Channel Power Display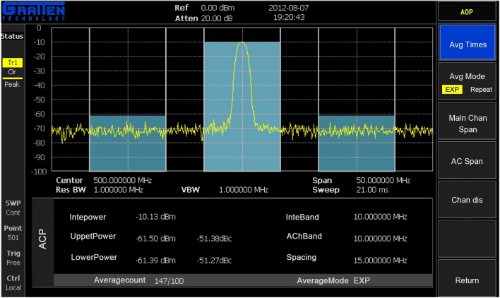 Distinguish Similar Nearby Signal at RBW 1Hz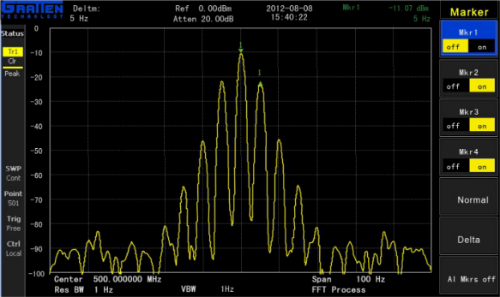 Third Order Intermodulation Distortion