The AD-100 is a complete set of half wave dipole antennas which operates between the 30 MHz and 1 GHz frequency range. The AD-100 meets CISPR, ETSI, ANSI and EN specification and is delivered with standard calibration data (found inside the manual provided), and each antenna can be individually calibrated if requested.
This set includes four differently-sized baluns intended for E-Field measurements. These allow you to conduct antenna tests within specific frequency ranges up to 1 gigahertz.
As pictured below, the dB1 is 5.3 inches high, 3.5 inches wide (30 MHz – 65 MHz). The dB2 is 3.1 inches high, 1-inch wide (65 MHz – 180 MHz). The dB3 is 3.1 inches high, 1-inch wide (180 MHz – 400 MHz). The dB4 is 5.2 inches high, 1-inch wide (400 MHz to 1 GHz).
All baluns share a diameter of 18.5 inches.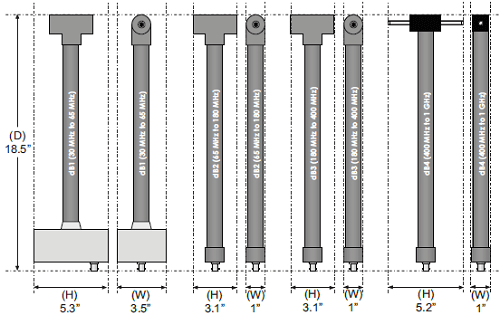 The element lengths can be minimised to the shortest length of 6.6 cm, or extended to a maximum of 290 cm. The total combined weight of the carry case, elements and baluns is 6.8 kg. For mounting, the first balun has been drilled to accept 1/4" x 20 threads.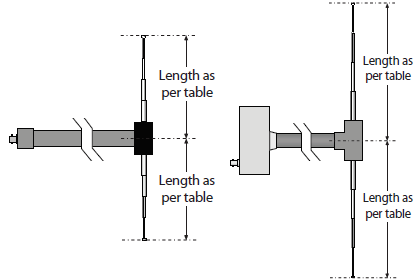 The element length table is found in the AD-100 datasheet found at the bottom of this page.
The custom storage case is made of super-tough, rugged plastic and fits all the items snugly inside – ensuring that all of your equipment is protected during transportation.
The included antennas are constructed of high-quality materials and are intended to be extra-durable. It contains four fixed length extension rods, two medium frequency elements and two low frequency elements – all 100% adjustable and tuneable. The AD-100 has a nominal impedance of 50Ω (Ohm) and uses BNC-type RF connectors (female).
Set configuration
Four antenna baluns
Four fixed length extension rods
Two low frequency adjustable elements
Two medium frequency adjustable elements
Balun 1 base drilled to accept 1/4" x 20 threads
half wavelength dipole antenna applications
The AD-100 includes antennas which are known as reference antennas. These are the favoured antennas for field strength measurements associated with Open Area Test Sites, (OATS) Normalised Site Attenuation (NSA) and Semi-Anechoic Chamber calibrations. They can also be utilized for most EMI compliance tests.
Another unique feature of the half wave dipole antenna, it's the only antenna of their kind capable of accurately calibrating broadband antennas (such as Biconical and log-periodic antennas).
These standard antennas can also be used as substitution antennas for EIRP tests (Effective Isotropic Radiated Power) and ERP tests (Effective Radiated Power) of RF transmitters. The antennas inside the AD-100 set can also be used for site attenuation measurements.
Each antenna can be tuned to any frequency by selecting the appropriate balun (determined by the frequency you wish to measure) and adjusting the length of the antenna elements to the half wavelength (which is calculated by 3 x 108/frequency in MHz/2).
The length can be achieved by attaching pairs of fixed and adjustable elements to each side of the antenna balun for lower frequencies. You can also attach a pair of adjustable elements to each side of the antenna balun for higher frequencies.
The fixed length elements were designed to minimise drooping, especially at low frequencies where the tuned dipole elements are long. Each balun also has a low insertion loss of < 0.5 dB, a VSWR of < 1.5 :1 and an antenna gain of 1.6 dBi.
Although the half wave antenna is not the favoured instrument for sweep measurements (due to the time-consuming tuning process), they are still the preferred instrument for measuring EMI radiation (instead of log periodic and Biconical Broadband antennas).
The most common type of dipole is the half wavelength antenna. With these, each pair of rod elements are about a quarter wavelength long, making the entire antenna ½ a wavelength long (explaining the name). Also, this type of dipole with a vertical polarisation has a radiation pattern which is Omni-directional.
Antenna factors of the AD-100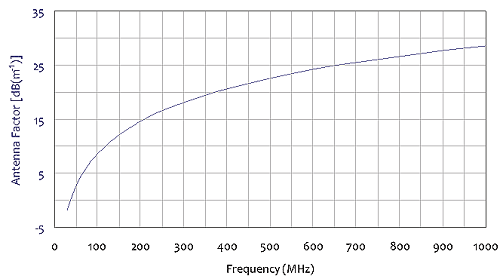 The antenna factor is used to describe the electric field strength needed to produce 1 Volt at the antenna terminals. Using the sum of Measured Voltage + Antenna Factor you can calculate the Field Strength of the antenna. Also, the antenna factor shows what the antenna's received voltage is when an electric field is present. As shown in the graph above, the AD-100 half wave dipole antenna has a typical antenna factor between -1.8 and 28.6 [dB(m-1)], and an average antenna factor of 13 [dB(m-1)].
Datasheet
| | |
| --- | --- |
| Datasheet | PDF |
| Technical Specification | |