The CDN-T8SE could be used either as a Coupling Decoupling Network for conducted immunity testing per IEC 61000-4-6, or as an Impedance Stabilization Network (ISN) for conducted emissions testing per CISPR 22/32. It meets all applicable requirements of these standards for each test, as well as those described in CISPR 16-1-2.
For Emissions testing the Impedance Stabilization Network operates in the frequency range of 150 kHz to 30 MHz. During Immunity Testing the Coupling/Decoupling Network (CDN) operates in the frequency range 150 kHz up to 230 MHz.
Applications for CDN/ISN-T8SE
This model Coupling Decoupling Network / Impedance Stabilization Network - T8SE is capable for testing conducted emissions and immunity on telecom ports, such as Ethernet, for connection to shielded lines consisting of up to four balanced pairs. This model is suitable for testing CAT. 3 and CAT. 5 shielded lines.
During emissions testing the Impedance Stabilization Network (ISN) provides:
The ability to measure false common-mode noise from the Equipment under Test (EuT), present on the data communication lines under test
Common-mode isolation between the EuT and Associated Equipment (AE), minimizing the affects that any false noise generated by the associated equipment may have on the measurement
The CDN provides what are essentially the same functions during immunity testing, but from the opposite perspective:
The ability of coupling Radio Frequency (RF) common-mode signals on to the communication lines under test of the EuT
Common-mode isolation between the EuT and AE, minimizing AE exposure to the injected RF test signal
Features:
CDN for Conducted Immunity Testing per IEC 61000-4-6
ISN for Conducted Emissions Testing per CISPR 22/32
Four screened, balanced pairs (Ethernet)
Individual Calibration
Three Year Warranty
CDN-T8SE Datasheet

CDN-T8SE Impedance graph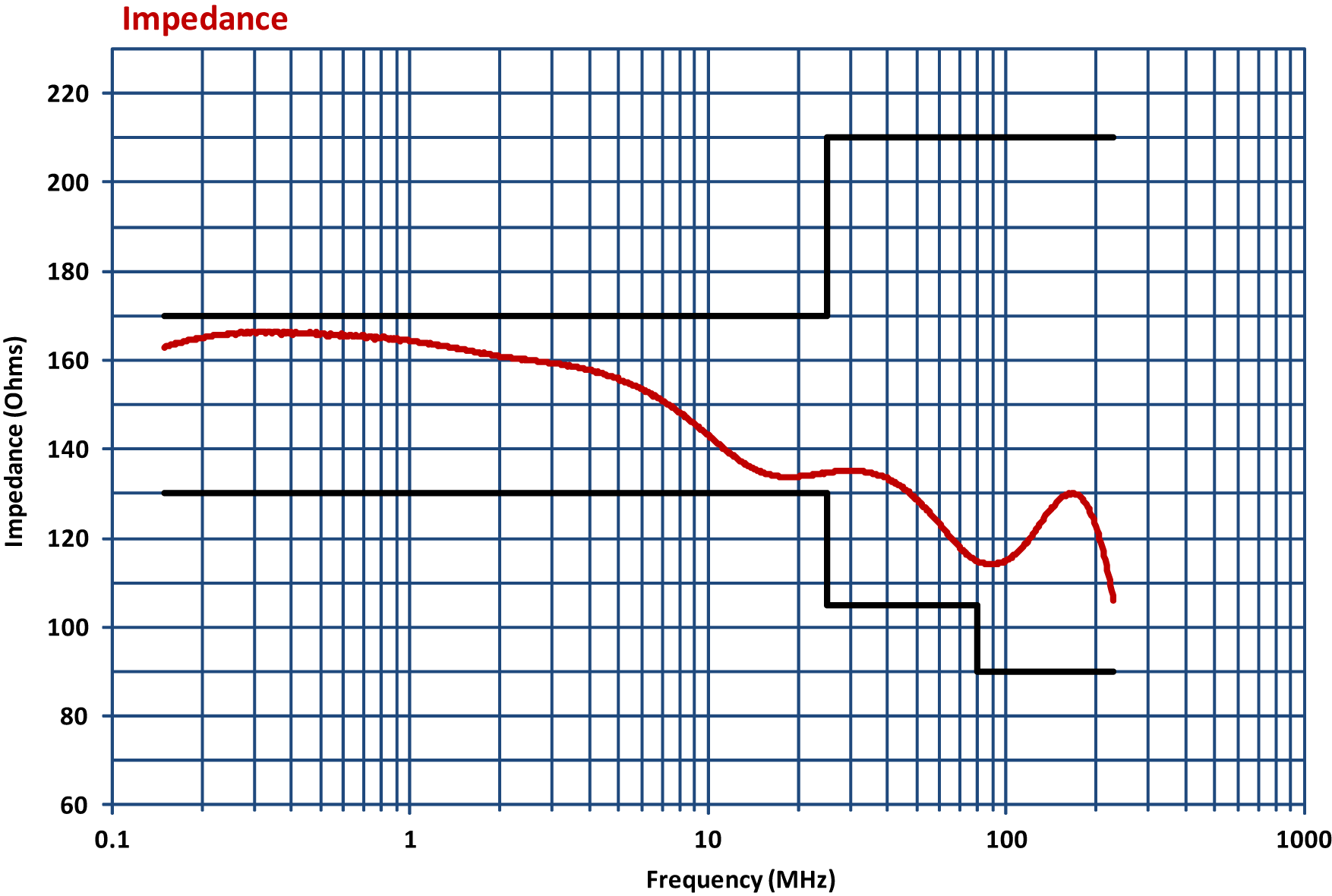 CDN-T8SE Phase graph