As an electronic product manufacturer you increasingly have to consider electromagnetic compatibility (EMC) in the design of your products. Usually the manufacturer does some pre-compliance testing and troubleshooting, but leaves the full-compliance tests to an accredited third party laboratory.
In this blogpost we'd like to show you how, using the right EMC test equipment, an in-house solution can be a smart investment for your company. We're also going to take a look at some equipment which might be useful for your in-house pre-compliance, troubleshooting, and even full-compliance testing.
In-House Pre-Compliance EMC Testing
Once you have a working model of the final product, you should undertake pre-compliance EMC testing. At this stage the goal is to check the performance of the working model and ensure that it has a good chance of passing the full-compliance test, which is often outsourced to a third party laboratory.
According to a study done by Intertek, approximately 50% of all electronic products fail to meet their target EMC requirements the first time they are tested. This shows how important pre-compliance testing can be in preventing both the additional costs and extra development time caused by failing the full-compliance test.
In-House Full-Compliance EMC Testing
After the development of a product is complete, it is ready for full-compliance EMC testing. The goal of these tests is to ensure that the product meets the specified standards. At this stage many companies call on the resources of a third party laboratory.
A lot of people seem to believe that the full-compliance test needs to be carried out by some accredited or certified institution. This is a common misconception. The so-called "CE Mark" is a self declaration by an electronic product manufacturer that the product in question meets all the relevant requirements.
In case of testing for a CE Mark, most third party laboratories don't have more authority than your own company. It is thus wise to think about what authority your third party laboratory has to carry out the compliance testing and whether an in-house solution could be more efficient.
What EMC test equipment should you buy?
Below we have picked a collection of EMC test equipment from our shop, which we think should give you a good overview of the available in-house solutions to EMC testing.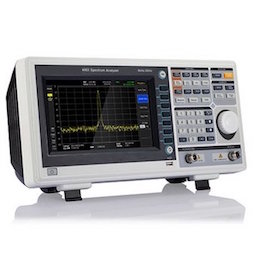 Gratten spectrum analyzer
Let's start with a spectrum analyzer. The primary use of this apparatus is to measure the power of the spectrum for known and unknown signals. Our digital spectrum analyzers measure the magnitude of an input signal versus the frequency within the full frequency range of the instrument. A great feature of our spectrum analyzers is their compact and portable format, which makes them easy to reposition and transport.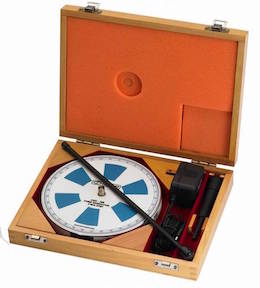 Com-Power comb generator
Another very useful piece of equipment is a comb generator. This small and portable radio frequency signal source can be used for calibrating your EMC testing setup. As you know the accuracy of your EMC test equipment is very important. Instead of going to a third party for calibrating your equipment, using a comb generator you can save valuable time and money and do it yourself.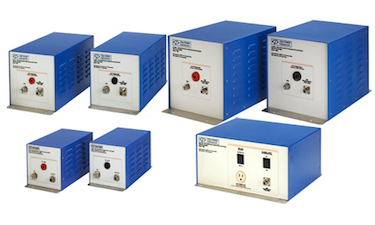 Com-Power LISN's
Next up our list is a line impedance stabilization network or LISN. This device is useful for conducted and radio frequency emission and susceptibility tests. A LISN is a low-pass filter which is placed between a power source and the EUT to create a known impedance and provide a radio frequency noise measurement port. Unwanted radio frequency signals are isolated from the power source by the LISN. A LISN can also be used for predicting conducted emission for diagnostic and pre-compliance testing.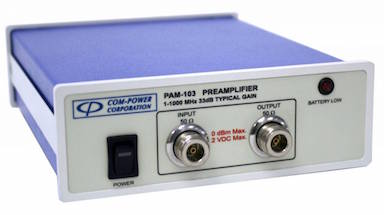 Com-Power broadband preamplifier
To improve the sensitivity of your EMC test system, you should use a broadband high gain preamplifier. This makes it possible for your antenna to measure amplitudes below the noise floor of the test system. High gain and low noise figures of the preamplifier help to improve the overall sensitivity of the system significantly, resulting in more accurate EMC measurements.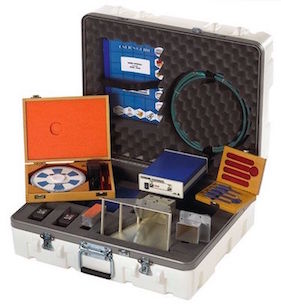 Com-Power EMC antenna kit
And last but not least we've got a serie of EMC antenna kits. These kits include a set of antennas covering a wide frequency range, one or more preamplifiers, near-field probes, a set of coaxial cables, and a comb generator. The main advantage of a dedicated EMC antenna kit is that they are highly portable. You can easily transport and setup for performing EMC tests in the field. This also makes them an interesting alternative for in-house EMC testing.
Conclusion
We hope this blog gives you some new ideas about how to move EMC compliance testing in-house. All products on Shieldingshop are accompanied by a detailed description and where applicable PDF's with specific information are available for download. If you need advise or have any questions about our products, do not hesitate to contact us. You can reach us at +31 6 234 95 652 or send us an e-mail.